Here are a few polls I made up for y'all! Please vote and make your choices stand out!

Results of Justin Picture Poll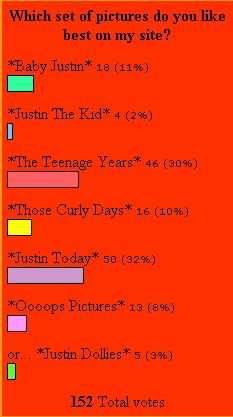 To the right, you can see the results of the Justin Picture Poll I've had up since I started this site. After 152 votes were cast I decided to make the results avaliable for all fans to see and to start putting up some fresh polls.
As you can see, JRT's fans like the look he has today and 50 fans voted these pictures to be the best. However, closly following these fans are the 46 who voted Justin's teen pics to be the best. From this poll I now know what the fans want and will be spending more time finding pictures in these two catagories than the others, but of course new pictures will be going in the other catagories also!
More Polls coming soon...