In October Britney graced the cover of 'Elle' magazine and told them: "When you're really comfortable with someone you love, the silence is best. That's how me and J are. When we're in a room together, we don't have to say anything. When we go out to a club, it's like we're the only two people there. It's for real!" Ahhhh, bless 'em!
In November Brit revealed: "OK, Ilike Justin a lot! He's very special to me, but I'm not saying any more than that."
Nowadays Britney and Justin are openly saying they're in love and rumours of an engagement are starting to spread.
Looky at this little animation I got, it's so cute! It shows all the quotes Brit & Justin have wrote bout eachother in their albums, awhhhh, think Im gonna cry!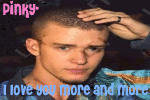 Click here for more Britney & Justin Pics...
News report of the month...
They are still together... but only just!
Britney Spears was said to have left long time lover Justin Timberlake just weeks after planning to marry him. The 20 year-old pop star was believed to have ended their relationship over both their hectic schedules, and was believed to have said that their careers have finally come between them. Since then she's been seen living it up with friends in the trendy Les Deux Cafe in Hollywood.
Britney admits that the couple were engaged on Valentines Day but says they weren't planning to marry just then. A close friend says : "It's been an on-off relationship for a while and they were very close to making a clean break. I can understand as they rarely get to spend any quality time together, I think that is the main problem."
In a recent interview, Justin's grandmother straightened out the whole rumour... "Lately Britney's been upset due to the fact that she's spending less and less time with him. He's constantly telling her it's ok but she won't listen. The two did have a very bad argument and were very close to ending the relationship but decided not to. They've got so much history together and I think they love eachother too much to end things now, they're going to be together forever!"